17,May:A Peace Walk, organised by family and friends of Internal Security Act (ISA) detainees Badaruddin Ismail (Pak Din) and Hishamuddin Rais, will be held this Saturday to keep up the momentum of anti-ISA efforts.
Organiser of the event, who wanted to be known only as Koy, said that the groups calling themselves Group to Free Pak Din (KBPD) and Friends and Families of Hishamuddin Rais (Fafisham) will walk the route from the Legal Aid Centre in Kuala Lumpur to Hishamuddin's uncle's Restoran Amjal in Universiti Malaya.
They will start walking after the Peace Walk is launched at the Legal Aid Centre. "The aim of the peace walk is to ensure that social activists Pak Din and Hishamuddin are not forgotten by the society.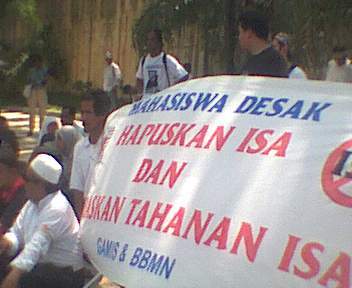 The others are all political party members but not these two. We want to put this issue (of social activists detained under ISA) on a pedestal and hope this will be an initiative to build up the momentum for more efforts to abolish ISA and free all the detainees as well," said Koy.
Hishamuddin is a social activist-cum-malaysiakini columnist while Pak Din is an activist with the human rights body Suara Rakyat Malaysia (Suaram).
Message Pak Din was the last whereas Hishamuddin was the first to be detained when police launched a crackdown on 10 reformasi activists beginning April 10.
Following the first seven arrests, police claimed the detainees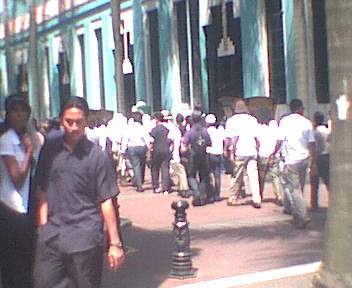 were planning to topple the government via militant means. The other eight detained are Keadilan leaders Tian Chua and Dr Badrul Amin Baharom; party Youth leaders Mohamad Ezam Mohd Nor, Saari Sungib, N Gobalakrishnan, Abdul Ghani Haroon and Lokman Noor Adam and webmaster of Free Anwar Campaign website (Freeanwar.com) Raja Petra Raja Kamaruddin.
"The participants will only include those who have registered as we have to identify each and everyone to avoid any sort of provocation arising during the peace walk. We have mobilised participants through networking and they will be wearing anti-ISA T-Shirts bearing the words 'Abolish ISA, Free Hishamuddin'.
"We will try to bring the message by walking amidst crowds along the route. Those intending to support us can identify themselves by wearing any anti-ISA badges," said Koy.
source:malaysiakini.com