About 100 people today participated in a two-hour "Peace Walk" from Kuala Lumpur city centre to Universiti Malaya, Petaling Jaya, to protest against the Internal Security Act (ISA), which allows detention without trial.
The group, led by friends and families of ISA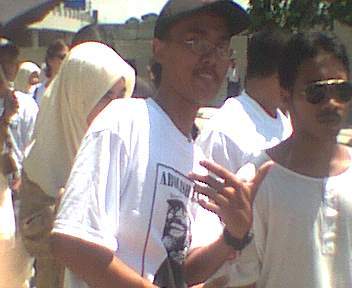 detainees Badaruddin Ismail (also known as Pak Din) and Hishamuddin Rais, comprised of concerned citizens, NGO activists and a few opposition members.
The event, organised by Group to Free Pak Din (KBPD) and Friends and Families of Hishamuddin (Fafisham), kicked off at the Legal Aid Centre, near Masjid Jamek, at 11.30am.
The group walked in a single row and at times two-by-two under the watchful eyes of the police. The police helped to control the traffic and a number of patrol cars were deployed to follow the walkers.
At certain areas, the group stopped to wave to pedestrians and cars, some of whom honked their vehicles as a show of support. While all walkers wore anti-ISA paraphernalia, there were no other visible signs to show that this was an anti-ISA protest.
There was no shouting of slogans nor were there loud hailers
being used. The group made it a point to walk around busy shopping areas of Kota Raya, Central Market and Bangsar Utama. Only when they reached their destination, Restoran Amjal at University Malaya, did they hold up a banner "Release Hishamuddin, Release Pak Din, Release all Detainees, Abolish ISA".
Special meaning
Earlier, at a press conference, KBPD and Fafisham - represented by Hishamuddin's brother Mohd Nordin Rais, Hishamuddin's friend Koy and Pak Din's brother Abdul Aziz Ismail - stated that the starting and ending points of the 'Peace Walk' were chosen as they hold a special meaning for Pak Din and Hishamuddin.
"The Legal Aid Centre is to remember Pak Din who assisted those who were arrested during reformasi gatherings over the past few years.
He was responsible for contacting the detainees' families, lawyers and collecting money for legal fees. "University Malaya, where the walk ends, was the place where Hishamuddin began his activism as a university student and spoke out against issues involving the poor and the oppressed," said Fafisham in a press statement.
Hishamuddin is a social activist-cum-malaysiakini columnist while Pak Din is human rights activist in Suara Rakyat Malaysia (Suaram).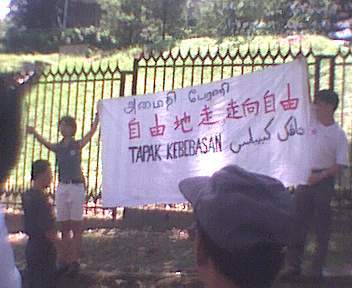 Hishamuddin and Pak Din was the first and last to be detained respectively when police launched a crackdown against 10 reformasi activists beginning April 10.
The police said the activists were planning to topple the government via militant means. The other eight detained are Keadilan leaders Tian Chua and Dr Badrul Amin Baharom; party Youth leaders Mohamad Ezam Mohd Nor, Saari Sungib, N Gobalakrishnan, Abdul Ghani Haroon and Lokman Noor Adam and webmaster of Free Anwar Campaign website (Freeanwar.com) Raja Petra Raja Kamaruddin.
source:malaysiakini.com