1,May:About two thousand people gathered at the Petronas Twin Towers at the Kuala Lumpur City Centre today to celebrate May Day today.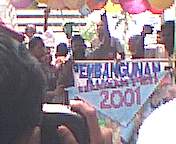 The event, organised by a coalition of 13 non-governmental organisations (NGOs), was themed 'Equal Development for All'.
The NGO representatives also presented a Workers' Declaration which called on the country's wealth to be distributed equally and justly among the population.
The declaration also demanded for workers equal and just pay and compensation, rights to housing benefits, free quality health services, rights to fair and equal education and consumer rights.
It also called for the abolishment of environment-damaging development, the upholding of democracy and the people's basic rights plus viable long-term agricultural and food development and planning .
Forty-nine non-governmental organisations, including student groups, human rights and consumer NGOs, political parties, estate workers' and women's groups endorsed the declaration. Economic crises Rahimah Abd Mansor, deputy president of Guppy Plastic in-house union said in her speech, "We would like to urge all workers in the country to struggle together with us, as how our grandparents did when they fought for the eight-hour work day and weekend holidays."
"It seemed this right has been taken away from us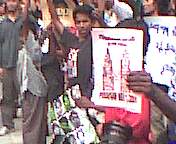 again. Only the face of oppression has now taken a different look," she said. She lamented that some workers had to work long overtime hours in order to make up for their lack in basic pay.
Factory workers, she said, only earn between RM350 to RM500 per month. She said whenever there was an economic crisis, workers would be the first to feel the strain as many would suffer retrenchment.
"The government up to this day does not have a proper scheme to take care of workers' welfare," she said, adding that it was often during such economic crises that workers' salaries were also cut down.
"The government is often pro-employers and that is why we must fight together regardless of race, religion or community," said Rahimah. Union rights Another factory worker who represented women workers, V Suzy said she was a single mother who had to take care of herself and her children but, "Nobody cares if my employer is obedient to proper rules and regulations".
"If I know my rights and if I am brave I will be able to demand for my rights and make a change. Either that or I would just have to take whatever that is being given to me.
This is the situation facing a lot of workers in this country today," she said. Suzy works for a factory in Semenyih. She claimed her employer tried to restrict workers from organising a union and has even dismissed union leaders.
"We wish to organise unions in order to safeguard our rights, to ensure a safe working place and to express our opinions freely. The present kind of development such as KLCC and the Kuala Lumpur International Airport has no meaning for me because it does not give me food, a place to stay or give me security," she said.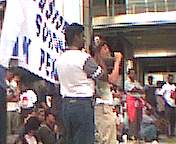 Country's assets Various student groups including the Malaysian Democratic Student's Movement (Dema) were also present at today's gathering. Dema representative Lee Khai Loon told the crowd, "Even though there are laws to restrict students, we will always be with the workers. Workers are a country's assets. No matter what the economic situation is, the government must always look after the interests of the workers". A bunch of balloons carrying a banner with the slogan 'Equal Development for All' was later released to mark the occasion.
source:malaysiakini.com