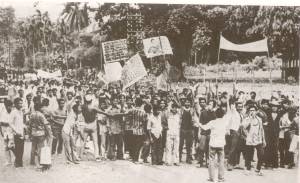 Awang, the owner of a rubber smallholding in a village in Baling northern Malaysia, has what the Malays call a matang sawo complexion - it is the light-brown colour of milk chocolate.
Elsewhere in Malaysia, the grilling sun has given the men who work in the open a swarthy look. For Awang, however, the sun is filtered through the green canopy of his rubber trees, and is one of the rare kindly gestures he has known from either nature or man.
Awang, about 5ft 2in and 35 years old, has a family of six - his wife, their four children and a sister who was divorced after two years of marnage.
From his holding of five acres he gets be- tween 8 lbs and 10 Ibs of latex a day. Reading the evening sky to judge the weather forecast for the following day, Awang knows that if it rains before dawn he will not go out to tap.
The bark is wet, and though he does not understand the biological change that occurs within the tree, he knows there is no point in making that 5 am incision on the bark with his tapping knife. . . the tree will not yield its milk.
On the average, accordingly, he can expect to tap for 25 days a month. In November 1974, he was getting only 20 Malaysian cents for a pound of latex.
The price of the finest quality sheet was low and had dropped in one day to M$ 1.06 per kilo (about 2.2 lbs). Some days, the dealers held off buying latex. Even at the best of times last year, when the price of sheet had soared to a peak of $2.65 per kilo in January, the boom was not impressively reflected in Awang's earnings.
The dealers - the middlemen between the tappers and the export markets - were creaming off what should have been his share. Awang's earnings, therefore, averaged $ 1.20 a day.
Awang has a little poultry and a few banana and papaya trees. He sells about four eggs a day at 10 cents each, and also the fruit.