Protest about Baling was, accordingly, not an intellectual exercise. It was a gut reaction from the students' own experience of rural misery.
It was this which sent them on to the roads of Kuala Lumpur and to the Selangor padang. NOOR, from Dungun, a village in Trengganu, is a 23-year old undergraduate in the arts faculty of the University of Malaya.
His father is dead, killed in an accident, and his family is very poor, with little to live on except the produce of five coconut trees and crops of long beans, cucumber, brinjals and red peppers.
The family has no padi land. The vegetable crops give it a return of between $5-$6 per month. There is no furniture in the house and a mat spread on the floor substitutes for a bed.
Noor has a scholarship of $2,800 a year to see him through university. He sends his mother $30 a month from what he has left after paying for his board and other expenses.
Noor is by no means unique. The 1,000 rural students of the University of Malaya, and the majority of those at Kebangsaan, come from sparse homes - with one bed for the parents and a mat for the children.
When they go home for the holidays, the students help out in the fields. Insofar as the agitation among the peasants and the students was organised or directed, it would be naive to presume that the communists did not "do their thing."
Although evidence is lacking of their direct involvement, one may expect that seeing the tensions in Baling they would have encouraged the protests.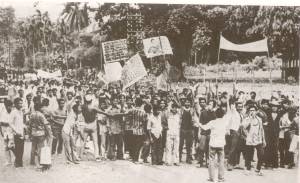 But observers agree that the main thrusts behind the peasants and ths students were ABIM (Angkatan - Force, Belia - Youth, Islam, Malaysia) and the socialist-inclined Party Ra'ayat (People's Party).
Party Ra'ayat's immediate signiiicance is that it is a bridge between Malay and Chinese radicals in a society in which, so far, each of these subsections in the two communities has functioned independently.
Several university lecturers and students are officebearers and activists. The potent force in Malaysia, where 80% of the people are from impoverished rural communities and the burgeoning intelligentsia is of rural origin and still holds fast to Islam, is ABIM.
ABIM's strength is less in its numbers than in the enthusiasm of its members. The movement was started in the universities a few years ago and has spread over the whole country.
Its members have penetrated various political parties, youth organisations and Government agencies. Recently, it has found supporters in the army. ABIM stands for an Islamic religious purism in politics and social life. It is organised on the basis of cells.