After the FRU and demolition squad had left, the squatters put up their sheds again in the rain. The FRU and the demolition squad returned on Sept. 16.
They did their job as if they had lost the last traces of humanity they flattened the entire kampung, split up the planks until : they were no longer usable, smashed the atap roofs, assaulted the squatters, including old folk, young children, women, even a mother who had just delivered her child.
Among the victims was a 7 day baby. Broken pieces of wood were everywhere. Cries and angry shouts filled the air. One squatter held a pile of pawn tickets, stunned. One woman could not stand it and fainted.
Why Did You Come Here?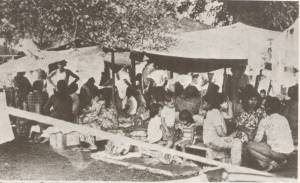 Someone asked an old squatter: "Why do you choose to come here? It has no electricity, no piped-water. . . ."
The old man: "We are poor and have no choice. We use the drain water. If it is illegal, why did the government give us lot numbers?" Another question: "There are so many in the family.
Why not build a bigger home. The house here is too small. (about 10' x I 5')" "Such a small house already costs more than $700/-. I have managed to save some $ 1000 in 30 years.
Now everything is gone." "You Are Illegal" Let us listen to the squatters and the authorities: "I spent all my possessions-everything, just to build the house..." "They took away my life-savings. Is that fair?" "In the name of Allah, don't pull down our house.
We have nowhere else to go." "Where will our children sleep tonight? When it rains. . . where will they go?" The reply from the authorities: "Humanity is one thing. The law is another. You are illegal."
The squatters: "We are poor. That's why we came here. We are forced to be illegal. If we have a choice, we wouldn't be squatters!" The authorities: "You are illegal. You are illegal."
The squatters: " . I am not a criminal. I didn't do anything bad. I am not afraid of you. I am just protecting my land, my house, my family. "If the law is against the poor, we have no choice but to go against the law."