In The Varsity Campus
On the morning of Sept. 22nd, the NEC closed the campus gates to non-hostelite students, while allowing suspicious-looking figures onto the campus who kidnapped the UMSU president, spread TASEK UTARA 35 rumours and stirred up racialism.
They declared a curfew on the campus and patrolled around carrying offensive weapons. The NEC issued passes to control the movement of collegians on campus and illegally occupied the UMSU Secretariat.
They even "suspended" UMSU and the activities of other student bodies.
A Well-planned Plot?
At 1.30 p.m. on Sept. 22nd, the following day, the Minister of Home Affairs, Tan Sri Ghazali Shafie predicted that the NEC might be able to "restore order on campus".
Was there collusion between the Special Branch, the minister and the NEC? Why did the university administration so readily accept the NEC?
What link was there between the NEC and the Johore state authorities? Moreover, the NEC's seizure of UMSU was swiftly and expertly executed.Who were the brains behind them?(3)
Opposition and Praise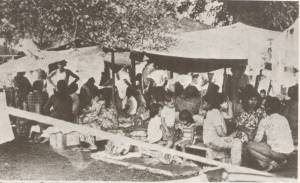 The NEC clique was facing mounting student opposition. Ajoint statement declaring the NEC illegal and condemning their strongarm tactics, and expressing unqualified support for UMSU and the squatters was issued by Xavier Hall Hostel, the PPN Hostel, the Clinical Student Hostel, the Non-Hostelite Organisation, the Seventh Residential College, the Law Society, the Medical Society, the Agriculture Society, the Chinese Language Society, the Tamil Language Society, the Science Society, the Socialist Club, the Dentistry Society and the Engineering Society.
Most students were also responding to a call by UMSU to boycott lectures. Student unions in other institutions, like PMUSM and KSITM, issued statements declaring UMSU the sole representative of the University of Malaya students and non-recognition of the NEC.
Students from Universiti Sains Malaysia held a rally to demonstrate their support for UMSU and to condemn the ruthless suppression of the Tasek Utara squatters by the authorities.
They also played tape-recordings of the struggle of the squatters during lunch and dinner time and collected donations for the squatters.
3.Their harassment and surveiilance reminded many of the reign of terror after May 13.The NEC even laid down certain "conditions" to be fuifilled before "returning power to UMSU", just like the National Operations Council's threat of continued emergency rule unless parliament submitted to their conditions.